You are hereThe Three Gorges of the Yang-Tze
The Three Gorges of the Yang-Tze
---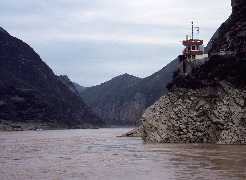 We spent another two days returning to Beijing on another route, that included a high-speed, winding descent through tunnels and gorges with 22-wheel trucks passing us honking and waving. The horn is as essential to driving here as the gas pedal--you can't operate one without the other. Especially if there are foreigners on bicycles anywhere in sight!
Back in Beijing, it took four hours to line up tickets for the train and get our bikes shipped to our next stop, Chongqing. Nobody believed we really had bicycles, and that we wanted to send them somewhere other than where we were going. Finally, with local help, we got the task accomplished and boarded the train 10 minutes before it left.
In Yichang, at the bottom of the Three Gorges of the Yangtze, we found a ferry with first class accommodation to take us up to Chong Qing, a cruise of 3 nights and two days. Unfortunately, we passed the lower two gorges during the first night, so no pictures, but I stayed awake for a lot of it, and we saw the base of the new Three Gorges dam.
On the first morning, we were joined on the boat by a westerner, Erich from San Francisco. We've seen surprisingly few... The ferry has stopped at 5 or 6 villages along the way, and now, we're here at the attraction of attractions: Feng Du, the ghost city. Where Heaven meets Hell. From the brochure:
"At 1982, Feng Du's Ming shan mountain was firstly announced the three Gorges tour district by state council. It is said this is the capital of ghost country; according to legend. Ying - Chang - Sheng and Wang - Fang - Ping had become immortals here. There are old trees reaching to sky. The hill is famous for its scenic beuaty; Buddha and taoist temples are standing here in a great munbers; the statues are all liyely. At the large Ying - Chao - di - fu', the gods of immoratal, taoism, confucius, buddhism and ghosts are forcibly occupying their temples; they are rigidly stratum and stays at their duty. According to legend, there are severing punishment and harst law, which is the world of ghosts... The Ming shan mountain is one of seventy - two manc of taoist. There are so many buildings...."
It's basically a Chinese Epcot center of the underworld, complete with plastic replicas of a bunch of temples, all shiny and new. And way overpriced--double the cost of walking on the Great Wall. We passed, and so we while away the day in the Internet cafe here because the honking on the streets is getting quite old.
Odd that the boat must stop here, and nowhere else!
More to come...